PRIVATE EVENT:

Welcome to my first
"Shots and Headshots" event!
May 9, 2015
Arrival Start Time: 2:30 p.m.
End Time: Once the Fun is Done!
Please drop by and hang out with our other friends for a glass of wine, a giggle and a shot!

Gordon J. Smith will be your photographer for some business/fun headshots and 3/4 images!

Nicole Hollis Walker will be on hand for makeup checks and to make sure our eyes are popping!

If you require full make up services, Nicole will charge $150 per application, but if you just need to have your own make up checked and touched up, tips are very much encouraged.


Please arrive with hair styled and base makeup on (though, you can prepare at our house too). I'll set out some of my costume jewelry but feel free to bring your own to add so that we can all share from a nice selection.

This is a casual event, with drinks and light snacks. Kids are welcome.


Meet your Photographer ...
Gordon J. Smith
For nearly two decades Gordon has been providing images on an international level in the fitness industry. Gordon has been the featured photographer for Oxygen Magazine and MuscleMag International, providing contest coverage, exercise and feature magazine shoots. For the past 12 years, Gordon has provided all exclusive professional stage photography the Fitness America Pageant family of fitness competitions.

Commercially, Gordon has shot numerous fitness and fashion shoots under the direction of Diane Smith, Editor and Publisher of ModaFit Magazine and feature writer for Oxygen Magazine.
When Gordon is not setting up his camera for the shot, he works as a partner at John & Hengerer, a boutique energy law firm located in Washington, DC.
Meet your Make Up Artist...
Nicole Hollis WalkeR


Nicole Hollis Walker is one of the DC/MD/VA area's most talented, motivated, and ambitious make up artists. Nicole has more than 10 years of experience and has worked with a wide variety of events and photo shoots. In addition, Nicole has worked with numerous notable high-end brands and has the unique ability to work with brides of all ethnicities. With a passion for fashion styling and makeup, Nicole has recently launched Haute Wheelz, a door-to-door make up, styling, and retail shop to help bring fun and fabulousness to your doorstep.

"My approach to makeup is very simple. A little goes a long way! Makeup is a tool to bring out your best you. Not all make up is stage make up but, makeup sets the stage for you to shine like a star!"
Nicole is also a proud new mom. Just look at her cute little girl!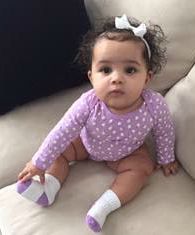 * Please note, Nicole's website is still being launched, but in the meantime, Nicole can be contacted and booked through nmhollis@hotmail.com or T. 301.276.1459.

Hosted by Diane & Gordon Smith / ModaFit Mag